In the new James Bond adventure SPECTRE, two major set pieces revolve around irresponsible but thrilling feats of aerial derring-do. In the first, Bond goes toe-to-toe with two assailants inside (and outside of) a Messerschmitt-Bölkow-Blohm Bo 105 helicopter as it zooms over Mexico City's Zócalo, or central public square. (One of the guys he's fighting is the helicopter's pilot, which seems like a doomed enterprise, but hey, he's James Bond.)
Related Content
In reality, the helicopter was flown by Red Bull aerobatic pilot Chuck Aaron, who's been flying choppers for more than 40 years, but didn't do his first loop until 2005. In the movie, Aaron performs his signature barrel rolls and dives, trying to shake 007 out of the chopper's open doors. He descended as low as 30 feet above the crowd of extras while the two stuntmen standing on one of the landing skids exchanged blows. Inevitably, Bond gets the better of his two opponents and takes control of the helicopter, flying into SPECTRE's typically elaborate opening-title sequence.
Later on, in a sequence set in the snowy paradise of Sölden, Austria, Bond commandeers a Britten-Norman BN-2 Islander to chase down a convoy of Range Rovers driven by his enemies. Designed in the 1960s, the prop-driven Islander remains in service with the British Army and various U.K. police forces. The sequence, where Bond deliberately crash-lands the airplane, clipping its wings off before plowing the now-skidding-on-snow fuselage through a barn, required eight Islanders in various stages of distress to shoot. Only two of them were fully operational.
A sequence in North Africa involves a McDonnell Douglas MD500E. Finally, SPECTRE's London-set climax involves its mysterious villain's attempt to elude capture in an Airbus AS365 Dauphin helicopter. Bond pursues him in a motorboat speeding along the Thames. If you think that places 007 at a disadvantage, you've clearly never seen a Bond movie.
The Airplanes of James Bond
AFTER 52 HOURS, 22 bags of popcorn, and a trashcan-size soda, the editors at Air & Space have finished watching all of the Bond flicks, counting more than 160 aircraft and spacecraft (both fictional and non-). Bond and company have flown just about everything from "Bird 1" (Ernst Blofeld's fictional two-stage rocket used to capture U.S. and Soviet spacecraft) in You Only Live Twice to the Aerospatiale/Eurocopter helicopter operated by psychopath Xenia Onatopp (who uses her thighs to crush her opponents to death) in GoldenEye to the hot-air balloon blown up by the Cigar Girl assassin in The World Is Not Enough to the fictional "Skyfleet S570 prototype" (the world's largest passenger aircraft targeted by terrorist banker Le Chiffre) in Casino Royale.
Here's our list.  If we left something out, let us know in the comments.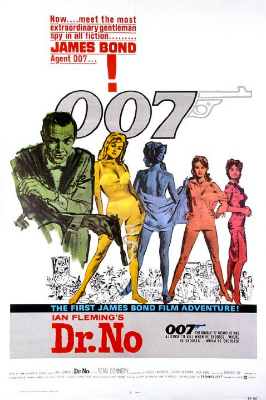 Dr. No (1962)
Boeing 707
Mercury spacecraft
From Russia With Love (1963)
Hiller UH-12 helicopters
Boeing 707
Goldfinger (1964)
Lockheed L.1329 JetStar/C-140
British United Carvair
Lockheed VC-140B (the military VIP version of the JetStar)
Piper PA-28 Cherokee (5)
Hiller UH-12E4 helicopter
Parachute
DC-3
Ejection-seat-equipped Aston Martin DB5
Thunderball (1965)
Avro Vulcan bombers
Bell 47J helicopter (with pontoons)
Bell Aerosystem rocket belt
Boeing B-17 Flying Fortress
Sikorsky S-62 Seaguard
Skyhook rescue system
You Only Live Twice (1967)
Aerospatiale Alouette III 316B helicopter
Kawasaki/Bell 47G-3 (5)
Bird 1 (Blofeld's fictional two-stage rocket used to capture U.S. and Soviet spacecraft)
Wallis WA-116 "Little Nellie" autogyro
Kawasaki-Vertol KV107-11 helicopter
Meyers 200A
"Jupiter 16" U.S. two-man capsule and launch missile
Two air-to-air missiles
Parachute
Redstone rocket with Gemini capsule (for fictional Soviet spacecraft)
Japanese version of the AC-130
Convair B-58 Hustler
Boeing B-52 Stratofortress
Republic F-105 Thunderchief
MiG-17s
Russian Bear bombers (Tupolev Tu-95)
On Her Majesty's Secret Service (1969)
Bell 204 Huey helicopter (3)
Bell 206 JetRanger helicopter
Diamonds Are Forever (1971)
Bell 206B JetRanger helicopter
Bell UH-1H Huey helicopter
Hughes OH-6A Cayuses
Blofeld's diamond satellite weapon (ficitonal)
20-sided silver pod parachute
ballistic missile
Seaspeed hovercraft
Surface-to-surface missiles
Live And Let Die (1973)
Boeing 747
Bell 206 JetRanger helicopter
Cessna 140
Various civil aircraft parked at the "Bleeker Flying School"
Hang glider
The Man With the Golden Gun (1974)
AMC Matador X Coupé (fictional)
Fuselage of a Chinese MiG
Republic RC-3 Seabee seaplane
The Spy Who Loved Me (1977)
Bell 206 JetRanger helicopter
Westland HH-3 Sea King and Wessex HC Mk 2 helicopters
Parachute
Undersea-to-air missile
Polaris missile
Moonraker (1979)
Bell 206 JetRanger helicopter
Aerospatiale-BAC Concorde
Boeing 747 shuttling space shuttle
Handley Page Jetstream turboprop
Prop-powered hang glider
Rockwell International Space Shuttle (the "Moonraker" space shuttle)
Parachutes
Men in EVA suits
Globes filled with nerve gas heading for Earth
Drax's "space station" (fictional)
For Your Eyes Only (1981)
Agusta/Bell AB 206 helicopter
Cessna U206G Stationair amphibian seaplane
PZL Swidnik (Mil) Mi-2 helicopter
Octopussy (1983)
Aerospatiale helicopters SA-316 Alouette III
Aerospatiale helicopters SA 365C Dauphin
Bede BD-5J "Acrostar" Microjet
Beech Model 18
Hot air balloon
Parachutes
Rapier surface-to-air missile
General Dynamics F-111
Various aircraft in opening scene, including an F-4
Never Say Never Again (1983)
XT-7B flying platform (fictional)
Rockwell B-1A Lancer
Lockheed C-130
Additional cargo aircraft
Cruise missiles
Sea-to-air missiles
A View to a Kill (1985)
Aerospatiale SA 341/342 Gazelle helicopter
Eurocopter (MBB) BO 105 helicopter
SkyShip 500 (Max Zorin's flying boardroom)
Smaller airship, designated G-BIHN (this airship is hidden inside Zorin's Main Strike mine)
Parachute
The Living Daylights (1987)
British Aerospace Harrier
Lockheed C-130 Hercules (M's mobile headquarters—actually a C-123 Provider)
Transall C.160
Bell UH-1H Huey helicopter
Parachutes
Two missiles shot from Bond's car
British Airways Convair
Miscellaneous civil aircraft
Licence to Kill (1989)
Aerospatiale HH-65A Dauphin helicopter
Eurocopter 350B AStar
Cessna 185 seaplane
Cessna 172 Skyhawk
Piper PA-18 Super Cub cropduster
E-2 Hawkeye
Learjet
Various civil aircraft at airfield
Parachutes
Stinger missiles
GoldenEye (1995)
Aerospatiale/Eurocopter 355 Ecureuil II helicopter
Airbus Tiger helicopter
Bell 204 Huey helicopters
Robinson R22 Beta
Pilatus PC-6/B2-H4 Turbo-Porter
Cessna 172 Skyhawk
MiG-29s
British Airways Airbus
GoldenEye satellite weapons system (fictional)
Bond!
Air-to-air missiles
Tomorrow Never Dies (1997)
Aero Vodochody L-39 Albatros
Aerospatiale/Eurocopter AS 350B A-Star helicopter
Aerospatiale/Eurocopter EC 135 helicopter
Eurocopter AS 565 Panther attack helicopter
Sikorsky CH-53 Super Stallion
Transall C-160
Parachute
Surface-to-air missile
Air-to-air missile
Chinese MiGs
Various satellites
Stinger missile
Car missiles
McDonnell Douglas F-15
The World Is Not Enough (1999)
Eurocopter EC 135 helicopter
Aerospatiale/Eurocopter AS 365N Dauphin
Eurocopter AS 355F1 Ecureuil II helicopter
Hot air balloon
Parahawk hybrid ultralight vehicle/snowmobile
CASA C-212-100 Aviocar
Surface-to-air missiles
Die Another Day (2002)
Mil Mi-8 helicopter
Antonov An-124
MD 600N helicopter
Griffon 2000TD hovercraft
Bell-Textron rocket belt
Bede Microjet
Boeing CH-47 Chinook
"Personal jet gliders, known as switchblades" (based on the PHASST glider)
Icarus satellite (fictional)
Parachutes
Heat-seeking missiles in Bond's Aston Martin Vanquish V12
ASAT (anti-satellite missile)
Casino Royale (2006)
Boeing 747
MD 600N helicopter
"Skyfleet S570 prototype" (fictional world's largest passenger aircraft targeted by terrorist banker Le Chiffre) (Virgin Atlantic Airbus A340-600)
De Havilland Canada Twin Otter Seaplane
Quantum of Solace (2008)
Douglas DC-3-G102A
Canadair Challenger 604
SIAI-Marchetti SF.260TP
Bell 205
Gulfstream V
Piper PA-28
British Aerospace BAE 125 Series 800A
Skyfall (2012)
Eurocopter EC145 (MBB-BKK 117 C-2)
AgustaWestland AW159 Wildcat
AgustaWestland AW101
Spectre (2015)
Messerschmitt-Bölkow-Blohm Bo 105 helicopter
Britten-Norman BN-2 Islander
McDonnell Douglas MD500E
Airbus AS365 Dauphin 2
Ejection-seat-equipped Aston Martin DB10